On Friday during the daytime I spilt my lunch down my shirt, dropped a cup of water on my desk and broke my computer keyboard. I then went home and my key could no longer open my flat, so I had to call a locksmith. I then later slipped and fell whilst getting out of my shower.

Considering all this you would have thought that I might reconsider going gambling to Macau last night. But I did not, the theory being that with so much bad luck, I had to have something going for me in Macau.

When we arrived in Macau we got our passports stamped and headed straight to the best Casino in town. The Venetian.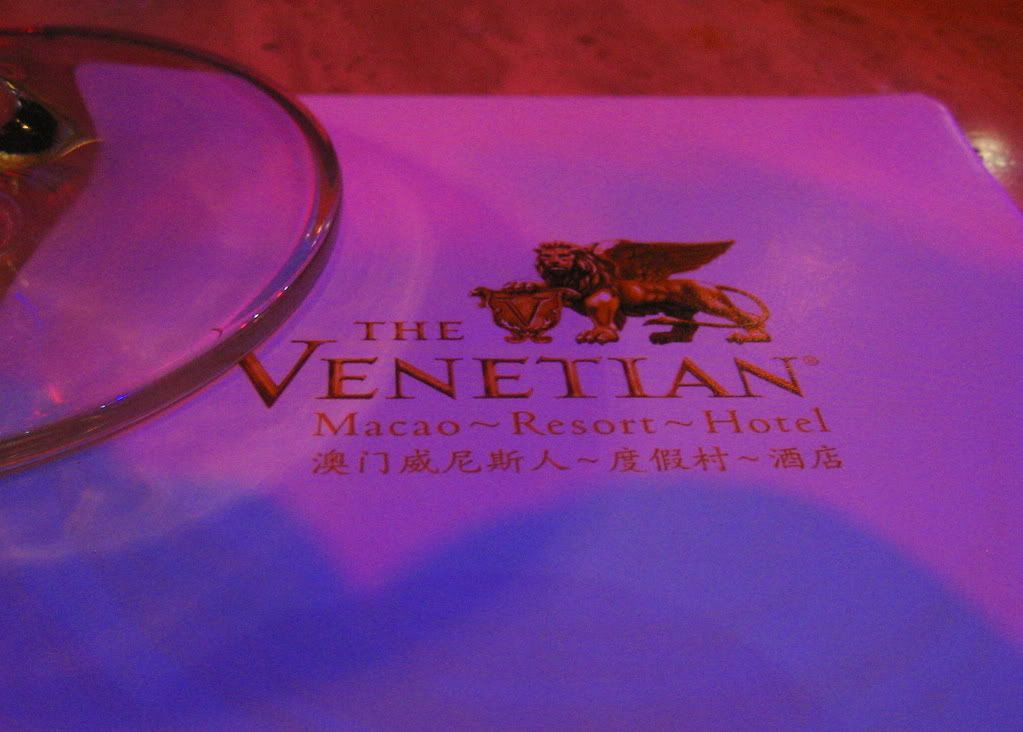 Nikki and Laura had never been there before so it was a new experience for them. We did not go straight to the gaming tables though, instead we decided to ease ourselves into the evening by having a drink and watching the live music at the Bellini Lounge.
Then it was time to spend our money. I went straight to the Roulette tables, cashing in 200 HKD for chips and sitting myself down next to an old lady wearing big diamonds and betting big money. What is great about a Casino is the free drinks they provide if you are betting. The idea behind it is that you get drunk and spend more money, though with a little self control you can get your moneys worth of free drink by only making small regular bets.

I turned my 200 HKD into 500 HKD then lost it all. Which is fine because I had been at the table for ages and it was money that I had already decided I could afford to lose. We then went for a walk around the indoor canal area upstairs in the Casino. And the drink had clearly started having an effect.
After that we hit the electronic gambling machines, and I managed to make 20 HKD last me another few free drinks and actually won enough cash to go for dinner at 3am in the posh Chinese dim sum place they had in the center of the casino. After some very tasty food we returned to the Bellini lounge for a while before returning to do some gambling.

I won some money and then lost some, then won some again in a never ending circle.
And so by around 4.30 am we decided to call it a night in Macau. The entire evening of music watching, gambling, chinese food eating, drinking and travel had cost me 600 Hong Kong Dollars. Which is not bad considering the ferry is 300 HKD return in itself.
So I left Macau feeling quite lucky indeed, having had a good night and lots of fun.
I returned to Wan Chai at sunrise and found the entire district shrouded in smoke. A fire was burning in a building up the street and the smell of smouldering plastic and household material was swirling and clouding the streets. My widows in my flat had been left open, and my bad luck had returned.
bx