I have just returned home from my Chinese lesson and thought it about time I updated the blog, as I have been neglecting it slightly this week.


After picking up little bits of Cantonese during my years in Hong Kong, I decided that it was high time I learnt the language of mainland China instead. This is because China is trying to connect all the various provinces that make up the country using one single language called Puthongua (also known as Chinese or Mandarin). Another interesting fact for you is that one reason Cantonese is so widely spoken in Hong Kong is because Britain enforced the language to differentiate between mainland China whilst under colonial rule.


My lessons are free because I provide an English tutorial to my tutor, then she teaches me Chinese. We both get something out of the two hour session and no money is exchanged. This exchange way of learning was something I came up with in the shower, but since then no other good ideas have crept up on me whilst cleansing. My overall plan is to make this method of learning Chinese available to all of the company employees sometime after Christmas, as we have connections to a University that has loads of Chinese mainland students.


Hong Kong weather has been pretty chaotic. One minute it is stunning, blue and sunny then the next minute it seems that someone has painted the sky black. Yesterday for example we had another day off due to a Typhoon edging towards Hong Kong. This is the 3rd time it has happened this season and now the excitement has worn off. I don't think a typhoon is ever going to impress me now because I want to see cars lifted into the air, pandas from the zoo zipping round in the sky above my head and fish sucked from the sea and raining down upon the streets. Apparently this is not what a typhoon does.


I went to the Bridge bar yesterday then to the races after work which was good fun. The racing season started a few weeks ago but I have not bothered to go till this week. It was good fun but I did not win anything :(

This Saturday I am going on a Junk Boat Trip with the new employees and then eating seafood at Sai Kung in the evening.


But apprently there is a typhoon coming again that could wreck those plans....


I leave you with a picture of all the ways in Hong Kong you are not allowed to catch fish.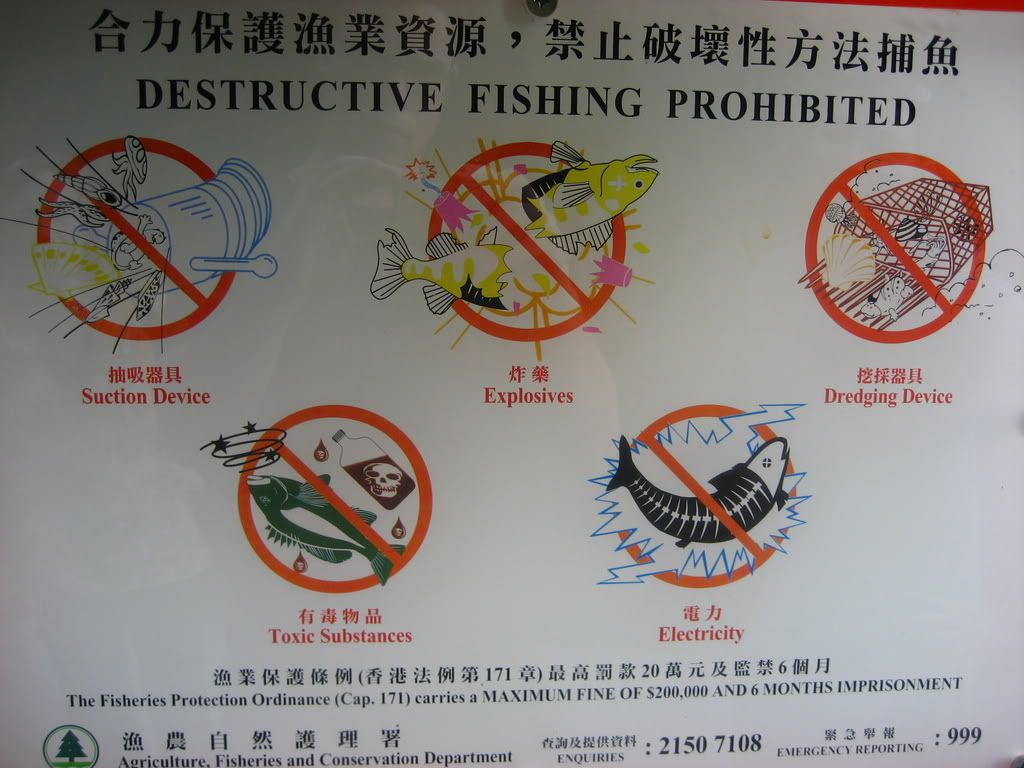 bx