It is now Sunday night after quite a busy weekend.


On Saturday I spent the whole day working at a school on Hong Kong Island. I was required to help out with an open day for prospective parents and their children, doing this on a Saturday is quite annoying, but to be honest I am totally broke and needed the extra money!

Each school subject had a different room location for the open day. I was representing English, which was tucked away on the second floor. Two of our regular staff who work at the school had turned the room into a place of English games, activities and loads of stuff like that.

However, parents had no idea where they could find us. If you looked outside into the playground you could spot loads of them on the first floor, but not many were coming upstairs. It was at this point that I asked one of the regular teachers of the school if they could think of a student helper who was good at English, loud, and did not get too embarrassed. Instantly the reply came "Cindy".


It turns out that Cindy wants to be a director and it became instantly clear that one day she will get there. Together our plan formed that she was to go downstairs and explain to all the parents in the sweltering heat that if they were to go upstairs to floor two their children could play games, have fun all whilst being in air conditioned surroundings (Cindy learnt the new words, 'selling point' during this plan).


So off she went! I peered over into the playground and she started really clearing it out, not only that, she even recruited another student to make the task easier! Sometimes parents shrugged her off, but then she would just move onto the next parents unfazed. Here is a picture of the future director of the world and her recruited sidekick.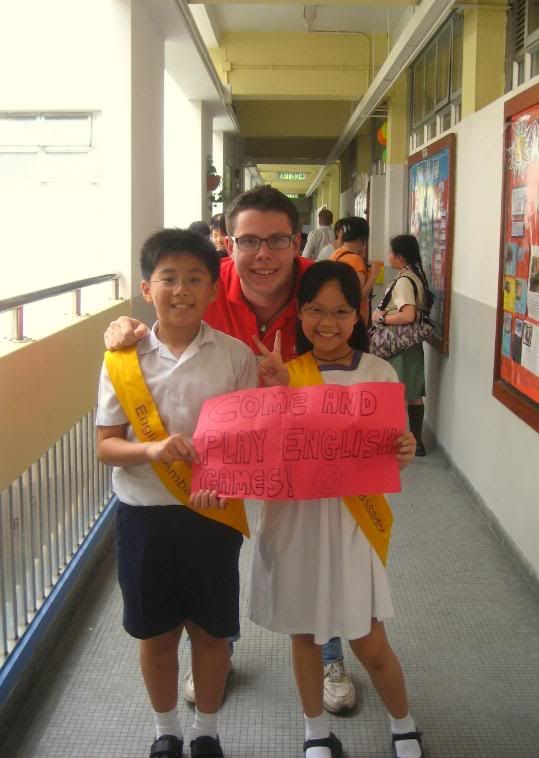 I thought Saturday was hard work, but Sunday really took it out of me. There is a club in Hong Kong that is quite popular with my friends and occasionally brings the fun onto the South China sea by means of a Junk Boat. A Junk Boat trip is fairly standard summer entertainment in Hong Kong, you go out in a big boat, go waterboarding, sleep, eat, drink and swim.
I expected a standard Junk boat trip today whilst waiting on the dock with my friends in Sai Kung.
I heard the music first, then the applause, then quite possibly the largest junk boat I have ever seen loomed towards the pier. It had four decks/levels and was seven times as long as your normal junk boat. On the second level was a DJ that everyone seemed to know, a full open plan kitchen and two working water slides. On the second level there was a drinks storage area, on the first level there was a full size bar and in the basement there was a disco, and a side room that was a chill out area with cushions and beanbags. I can't really do this boat justice but it was heaven on sea, and 70 people were about to board.
Even better was that it was 350HKD all you can eat and all you can drink. You name it, a guy was cooking it or serving it. What a crazy crazy day. So much so that I drunk too much and forgot to take many pictures.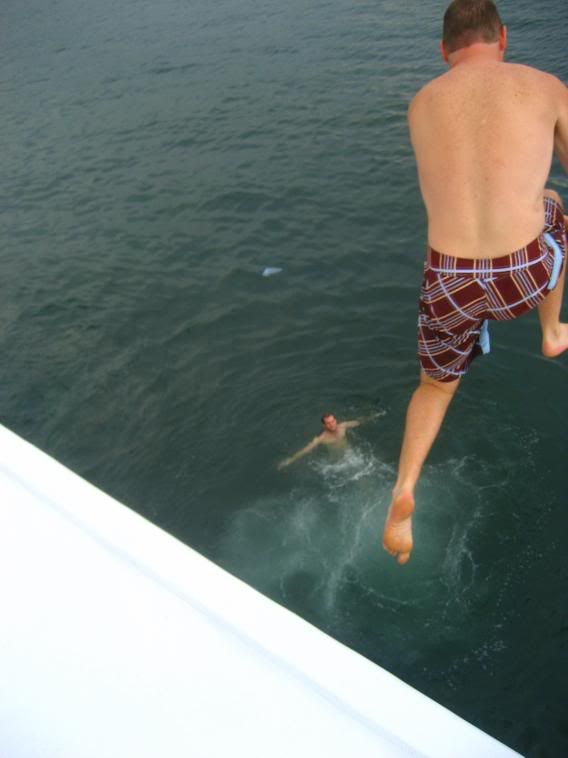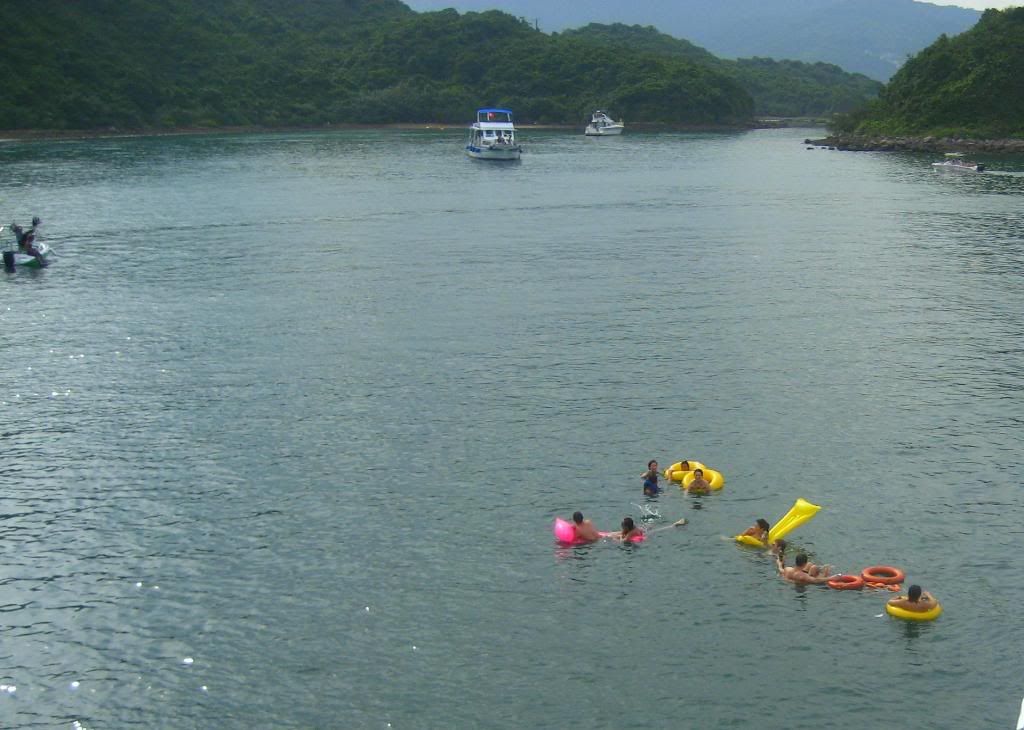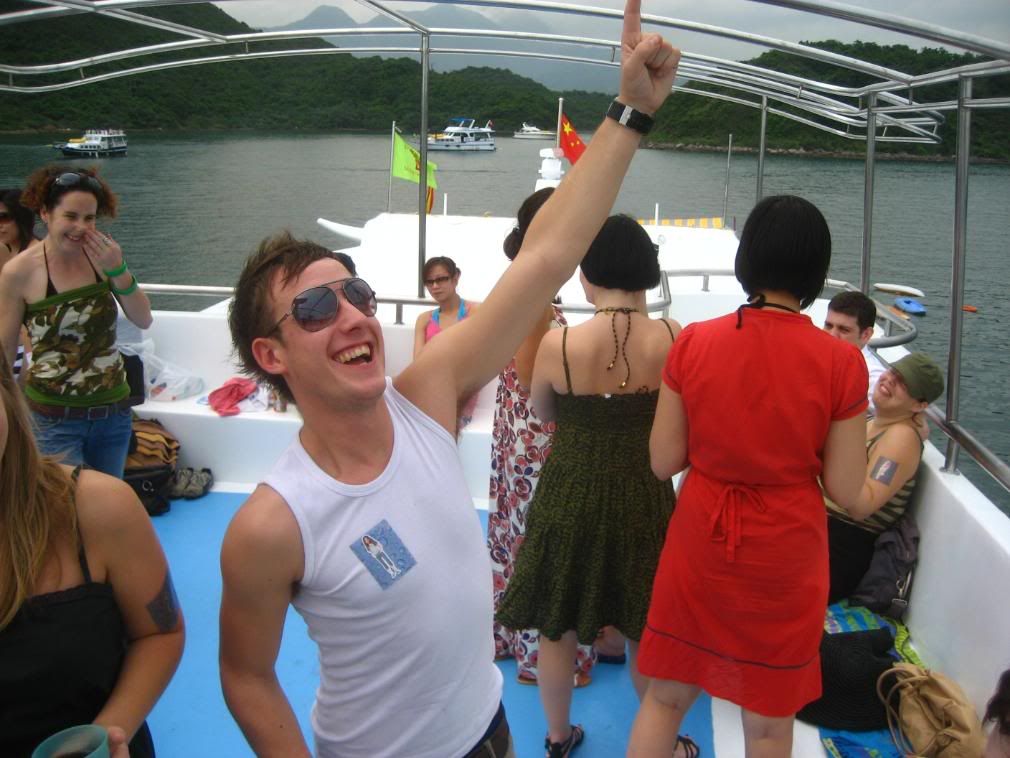 bx